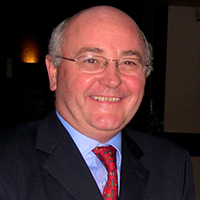 Trevor Neil MSTA MCSI has over 40-year experience as a professional trader. He started his career in 1975 as a floor trader on the London Commodities Exchange for Merrill Lynch.
Since then he has worked for many well-known institutions and banks in London and overseas. He moved into fund management, technical analysis and analysis during his career. His institutional trading career was interrupted in 1999 when he was engaged as Global Head of Technical Analysis at Bloomberg.
After four years he returned to trading, running a hedge fund based in Cape Town, South Africa. He was on the board which founded the Society of Technical Analysis. He was involved in the creation of their professional qualification which is now franchised world-wide.
He is today a fund manager but also teaches working with professionals globally. He counts many top institutions amongst his clients. He has written several books and many articles and appears frequently on financial TV.
Trevor is an Accredited Training Provider with the Chartered Institute of Securities and Investment (CISI).